Local builder helps rehab lives through nonprofit work
By
Jay Turner
In a six-minute
promotional video
shot last winter for
Boston area
specialty housing provider
Project
Outreach, a group of local men who are now clean and sober talk openly about their troubled pasts and what it means to have been given a home, a job, and a chance at redemption.
The video, titled "
Boston
Rehab
," is a moving and honest snapshot of life in recovery and a good introduction to the work of
Project
Outreach and its co-founder, Jim Lamarr.
A resident of Canton, Lamarr is the owner and operator of a successful home-building and remodeling company, JML Custom Building & Design. He also recently teamed up with Mansfield developer
Paul
Folkman on a series of local development projects, including a proposed condominium conversion at the Connors Wayside Furniture building on Route 138 in Canton.
Overall, Lamarr has more than 21 years of experience in the building and remodeling trades. Yet he prides himself on being much more than a businessman and a builder. In fact, in the past five years alone, he has produced and hosted his own talk radio show, co-founded two successful nonprofits, and has been in talks with television producers to create a reality TV program around his work with Project Outreach.
Exactly where the married father of four manages to find the time or the energy for all of this work is still somewhat of a mystery, although his passion is apparent and the results thus far seem to speak for themselves.
In the case of Project Outreach, Lamarr, in just a few short years, has overseen the construction of a number of recovery homes across the south shore and has helped dozens of individuals find housing and get their lives back on track.
"What we do," explained Lamarr in the beginning of the promo video, "is we'll go out and we'll buy rehab properties, bank-owned properties, foreclosed properties, distressed properties, and then me and the boys from Project Outreach come in and we'll rehab those properties, and then we turn that into sober housing."
In addition to meeting the housing needs of veterans and non-veterans in recovery, Project Outreach also provides education, services, and outreach programs to individuals in recovery to assist them "from the day they enter treatment throughout the recovery journey and ultimately into homeownership."
Lamarr said they even offer a series of single-family, "graduation-style" housing options to people who have completed their stay in the sober houses and are ready to take that next step in their lives toward self-sufficiency.
Furthermore, Lamarr said he even surprised himself somewhat when he began to go into the sober houses and offer the residents employment — a move that has paid major dividends for the program as well as for the residents.
"I've had guys working for me in the homes for six years or more — guys that really struggled early on," he said. "I also have four guys working for me who are living in single-family homes."
Lamarr said he has been able to navigate the challenges of working with men in recovery because he can relate to their struggles, having gone through similar challenges earlier on in his youth.
"It's challenging, but it works," he said. "I have a lot of experience, a lot of street smarts. But I'm also able to show these guys what can happen and what's possible if you turn your life around."
Lamarr said a similar motivation is behind his work with another local nonprofit, We Salute You Veterans, which he co-founded with
Scruffy Wallace
, bagpiper for the beloved
Boston band
Dropkick Murphys.
Lamarr, who grew up in Milton with Dropkicks founder and bassist
Ken Casey
, teamed up with Wallace in 2012, and together they have utilized their contacts within the
Boston area
as well as the entertainment and sports worlds to help veterans in need.
The organization has held a series of fundraisers and "stand down" events, including a big
Christmas
dinner at the
VFW
hall in Milton where they distributed basic necessities such as hats, gloves, coats and blankets to more than 300 local veterans.
"We invited all of the guys from the different
VA
programs," Lamarr said of the Christmas event. "It was a huge hit and a great event."
Lamarr said they have since worked with the
Red Sox
Foundation and are hoping to coordinate an event with them in the near future. They have also teamed up with a company that sells tactical gear and clothing to military personnel, and the company has agreed to donate a portion of its sales back to We Salute You Veterans.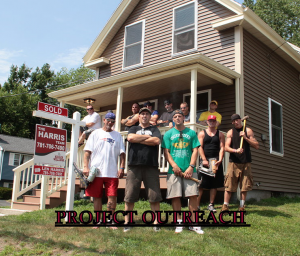 Additionally, the charity coordinates with Project Outreach to provide safe and sober housing to veterans in recovery, and Lamarr has already committed to donating a handicap-accessible condominium unit at the Connors Wayside property — pending all necessary approvals and permitting — to a deserving local veteran.
As for his professional life, Lamarr said business is thriving, and he is excited about some of the development projects he currently has in the works with Folkman, including the aforementioned Connors project and the nine-lot "Beaver Meadows" subdivision off Pleasant Street in Canton.
"We're a little bit of a different breed, my partner and I," said Lamarr. "We tend to operate in an honest and transparent arena. We try to work directly with the neighbors, and our approach is sincere."
Beyond his work as a builder, Lamarr has also founded his own TV and film production company, and he recently wrapped up a three-year stint as the host of "House Calls with Jim Lamarr," a live home improvement program that aired every Saturday on 950 AM.
Lamarr said he essentially "stumbled into" the opportunity after he did some work for a client that happened to own several local radio stations.
"He liked the way I handled his elderly parents," Lamarr said of the station owner. "He says, 'You'd be great on a radio show.' The next Saturday, I literally walked into the studio with no experience and started my own radio show. I wrote and produced it myself."
Lamarr said he also has plans to make a documentary about Project Outreach, and last spring he was grabbed by "a couple of
Hollywood
guys" who wanted to make it into a reality TV show.
He has since made a few trips to
Los Angeles
to discuss the project, although it is currently on the backburner. "It's still alive; I just haven't been pushing it," he said.
If the program ever does get produced, it already has a ready-made title, "Rehabbing Boston," and Lamarr, who is clearly something of a natural on radio and in front of a camera, seems to have already come up with the perfect tag line.
It's the last line in the Project Outreach promotional video: "We're rehabbing properties and rehabbing lives at the same time," Lamarr proudly declares.
To learn more about Project Outreach and to view the video, go to www.projectoutreachboston.org